---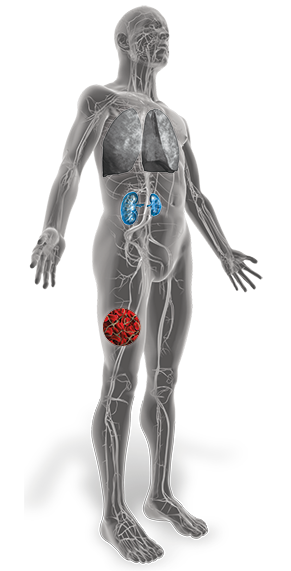 Start Learning—and Change the Way You See
PNH
PNH is serious. It starts with your blood, but it can affect your entire body
PNH is dangerous. If you don't take care of PNH, it can lead to serious health problems, including some that can be life-threatening
PNH is constant. Even though you can't see it,

hemolysis

is always happening
PNH is manageable. Speak with your doctor to find out what's right for you
If left unaddressed, PNH can lead to:
Blood clots can block veins and

arteries

and lead to

heart attack

,

stroke

, and organ damage, as well as other problems
Chronic kidney disease occurs in almost 2/3 of people with PNH
Lung problems occur in almost 1/2 of patients with PNH. They can be caused by

pulmonary hypertension

. This can lead to shortness of breath and other serious health problems
Fatigue due to hemolysis. Hemolysis affects the way oxygen gets delivered throughout your body. This can make you feel weak and tired to the point where once-normal, everyday activities become a struggle
Click on a word that is underlined with a light dotted line and an explanation of that word will appear.
---
References: 1. Brodsky RA. Blood Rev. 2008;22:65-74. 2. Rachidi S, Musallam KM, Taher AT. Eur J Intern Med. 2010;21:260-267. 3. Rosse WF. In: Hoffman R, Benz EJ Jr, Shattil SJ, et al, eds. Hematology: Basic Principles and Practice. 3rd ed. New York, NY: Churchill Livingstone; 2000:331-342. 4. Borowitz MJ, Craig FE, DiGiuseppe JA, et al; for Clinical Cytometry Society. Cytometry Part B. 2010;78B:211-230. 5. Hillmen P, Muus P, Röth A, et al. Br J Haematol. 2013;162:62-73. 6. Hillmen P, Lewis SM, Bessler M, et al. N Engl J Med. 1995;333:1253-1258. 7. Socié G, Mary J-Y, de Gramont A, et al; for the French Society of Haematology. Lancet. 1996;348:573-577. 8. Nishimura J-I, Kanakura Y, Ware RE, et al. Medicine. 2004;83:193-207. 9. Hillmen P, Elebute M, Kelly R, et al. Am J Hematol. 2010;85:553-559. 10. Hill A, Rother RP, Wang X, et al. Br J Haematol. 2010;149:414-425. 11. Meyers G, Weitz I, Lamy T, et al. Blood. 2007;110: Abstract 3683.